During the day during the week I pretty much live at my desk- if I'm not traveling. Because of this I tend to gather things around me and wind up in a bit of a cocoon. You can usually find a water bottle, travel coffee cup, a mug of tea and assorted boxes of tissues as well as a few pairs of my glasses scattered around. I'm an office supply collector and have to be careful only to keep my favorite pens around or I'd get swallowed alive by swag giveaway pens. I am however looking to keep a few things around that I can use to make me feel refreshed or at least prettier. Having a career that puts me on webcam quite often also requires me to have 'extra' makeup items around so I don't have to run up two flights of stairs just to grab some lipstick.
As I tried tidying up a bit today, I realized I have a few things I reach for all the time. I moved them within arms reach so that I could 1) get to them easier and 2) use them more often.  What's on your desk that you love and that is functional?
Warning, this post is makeup related. 😉 The thing about writing on my own blog is I get to talk about all the facets of me, not just one or two (like work or tech).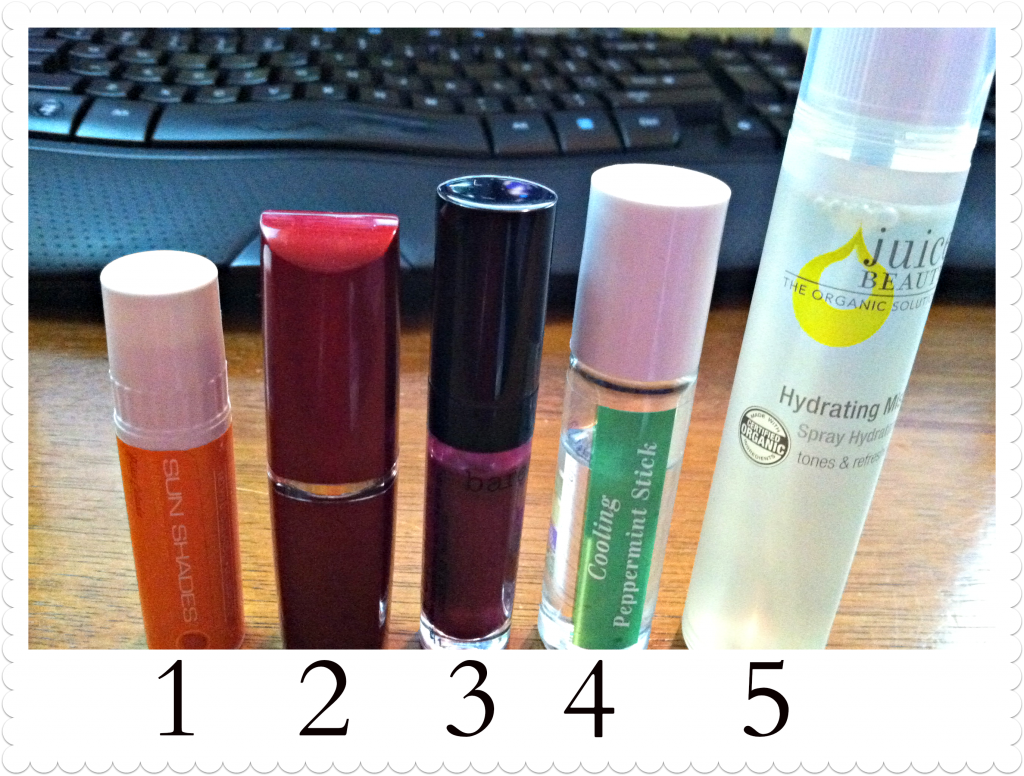 Melaleuca pina colada lip balm. It smells like suntan lotion and summer which is very helpful since my office is near-windowless and cold. It's one of the only 'chap sticks' that doesn't dry out or get sticky.
Maybelline lipstick in Cool Watermelon D160 (apparently discontinued, maybe I should sell my half used tube on eBay?). For the record I hate watermelon (the fruit AND the flavor) and the color lipstick looks kind of orange. Jane Ellen sent it to me and told me to use it during hangouts. I'll be dammed if it's not a great color on and off camera… (she's brilliant by the way)
Bare Escentuals Marvelous Moxie Lipgloss Dare Devil. It smells like root beer and looks sophisticated. Sometimes I wear it even when I'm not 'on camera' or don't have any other makeup on. I am a lip gloss junkie. Got mine from an Ipsy monthly pack so it's a travel/trial size.
Aura Cacia: Aromatherapy Cooling Peppermint Stick. I have the lavender floating around someplace as well, but peppermint is more of a pick-me-up which I turn to about 3pm and lavender makes me a bit sleepy (or calms me down if I'm having a particularly stressful day). I usually pick them up at Whole Foods. EDIT: I'd just like to say Aura Cacia found my post, reached out to me and thanked me for mentioning them. Hey, it's a great product and I like to share it. Besides, that's some really good business people they must have there to be paying attention online! WOOT WOOT!!
Juice Beauty Hydrating Mist. Another Ipsy bag item – that's why it's a 'trial' size. This one is great for spraying on my face (never tried it with makeup on yet) for a bit of a wake-up and refresher.