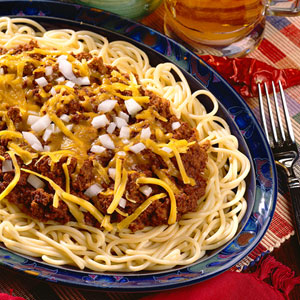 There is something about having a big pot of comfort food on the stove or in the oven cooking while you spend time with your family.  Maybe the holidays bring that craving out in people or maybe it's the long winter nights (and short days…) While digging in my cabinet for a different recipe, this one fell out and landed right in my hands.  I took that sign to mean COOK ME and within 10 minutes I had put dinner on the stove at 2pm.  I got this recipe about 8 years ago from friends of ours that always cook it for Superbowl parties.  My daughter will not likely go for it because it is a bit spicy, but my son will gobble this up.
You may even have all the ingredients in the house right now, I found the ground beef in my freezer and put it in the cooking pot frozen!  I'm not a particularly domestic person, but do like to cook from time to time (NEVER like to clean) and this is one of my favorite 'for a crowd' meals.
What are some of your favorite comfort foods? What does it make you think of when you cook or eat it?  I'd love to know!  Enjoy & enjoy your new year!
Cincinnati Chili
1 quart water 2 pounds ground beef 1 teaspoon cinnamon 1 teaspoon ground cumin 2 large onions, chopped 1 teaspoon Worcestershire sauce 1 clove garlic, chopped 2 tablespoons chili powder 1/2 teaspoon red pepper 1 teaspoon black pepper 1/2 teaspoon salt 1 1/2 tablespoons allspice 6 ounce can tomato paste 1 1/2 tablespoons cider vinegar 3 large bay leaves
Bring water to boil. Add meat and all ingredients. Simmer uncovered for 3 hours.  Remove and discard bay leaves. Serve chili over hot spaghetti, and top with cheese and onion. Serve with oyster crackers.