Today is January 1, 2011. The buzz in my social media circles is choosing a word (or three) to define and structure what you want to 'be' this upcoming year. I like the idea as long as you develop some sort of trigger to keep the words and ideas behind them top of mind.  Too often New Year's 'resolutions' get forgotten by March (hello Valentine's Day and Easter candy!).  I think the key isn't to identify your three motivating words, but to find your trigger points to know what it will take to remind yourself of your words and keep on track.  Good intentions produce nothing without consistent action.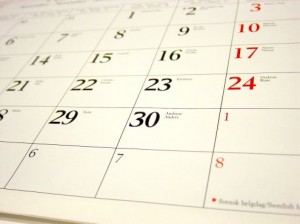 While I wasn't originally going to pick my three words because I'm not really a fan of jumping on the Internet meme bandwagon, I realized that if I keep doing what I'm doing I'm going to keep getting what I'm getting.  I've been blessed with the ability to work hard and be productive with both my business and (hopefully) my family, and understand that my ability to be a driven, successful person is based on every decision and experience I have had up to this moment.  But – like many women – I have neglected ME.  You see, I turn 40 this year.  FORTY. I need to start paying attention to me.  When I turned 30 I was a bit unsettled, but had just married my husband the year before and was about to have our first child and it was all exciting.  I had a plan, or at least a general roadmap of where I was going.  I knew my 30s were the decade I was officially a 'grown up', where we would grow our family and plant roots and become stable.  What the hell do my 40s have to offer?  Our family is complete, we are as settled as we are ever going to get and our businesses are established.  I DON'T KNOW WHAT IS SUPPOSED TO COME NEXT.
I have a project manager mindset having been in the role by trade and experience for over 20 years.  I'm analytical.  I like mapping everything out in front of me, looking at all possible outcomes (and risk), and developing scenarios for each outcome that increase positive results and/or lessen risk.  In my world there is always a next goal – you either constantly 'level up' or you sink.  You can't do that with LIFE.
So if I don't know what is next, all I can do is concentrate on making what I have better.  While I haven't picked my three words yet, I do know what categories they need to be in.  (See I'm at least drawing the outline even if the data isn't there yet – my analytical mind approves.)
Professional Personal – Mindfulness
Self
I know that in my professional life what I have to do, but taking the time to really sit and reflect to find ONE PERFECT WORD that embodies the full breadth and depth of my intentions is needed. On a personal level – my family and life away from work – it's actually a little less clear.  Part of defining a word for my personal self is taking a good hard look at where I've fallen down and where I've excelled, and try to take into consideration both for moving forward.  The self word is the hardest.  I never put 'self' on the list.  Maybe putting me on the agenda is enough, but being that this is a new decade for ME as well, I think I need to not just the acknowledgment that I exist but make myself a priority.
Once I figure out what my words are I will come back and edit this post for the sake of completion, but in the meantime, what have you decided to concentrate on this year?  For me it's not only a new year, but a new decade on the calendar and in my life.  BIG. CHANGES. ARE. NEEDED.