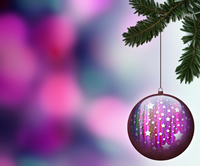 The year is winding down the same way it started, with me in my (home) office trying to squeak in a few minutes of productivity while the kids play. In between January and December, I was fortunate enough to grow my company, staff, client base, and office space – but for now it's just a (not so) quiet Sunday morning sipping coffee and listening to my children have a high chair race around the kitchen. With a six year age difference I wasn't prepared for the amount of arguing they do, but for now I'll enjoy the fact that they are playing with each other and not killing each other.
The beginning of the year starts with how it ends – holiday decorations. On the list for today is putting up the tree, but in order to accomplish that I need to clean the family room first. Two kids and lots of toys will make it difficult. The closest I've come so far to decorating is burning a "Home for the Holidays" candle. With kids in the house it's not an option to skip the decorations, but I really hate the process of decorating (just to have to put it away in four weeks!) It seems in order to start any project, several more have to be completed. It would be nice to just enjoy the holidays without all the behind-the-scenes work. I think my avoidance of decorating has something to do with the fact I still have a lot I want to accomplish in 2009, and time has all but run out. Maybe I should start thinking in a 'rolling six month' time frame, then it will never be the end, just another month.
Honestly I've already missed a few social functions that I wanted to go to, mainly because I've been so busy – or tired – that I've forgotten to check my calendar. My newly broken tooth (a.k.a. my involuntary weight loss plan) has thrown a kink into the holidays as well. Who would have thought that fixing a broken tooth would cost almost $3,000? I really don't want to see the bills when they come in after this month… and that's before we even head to Disney.
I think what I need to do (besides clean and decorate) is come up with a plan. Set goals for myself – real goals. Realistic professional and personal accomplishments that I can check off a list. In the past I've tried making a plan but I've been way too strict and mainly set goals based on time, as in 'clean one hour from 9am to 10am every single day.' Obviously that doesn't work for me. Setting goals like 'clean the downstairs bathroom – sometime by every Saturday' may get better results. A kitchen timer may work as well, since starting projects seem to spawn more projects and feel like they go on forever. Tasks that produce visible or tangible results may have better luck getting finished as well. I love my vacuum cleaner because it lets me see all the dog hair and fuzz as I'm using it. Instant gratification. So I suppose in 2010 I need to plan my projects so I can see results sooner.
What I think I'm going to do, rather than let my ideas get buried in the archives, is create a page with a running tally of what I want to get done, no matter how small or pointless. You don't have to read it or comment on it, don't worry. As with most things on this blog, it's for my own entertainment and any readers that are crazy enough to be on the ride as well. It won't be a grocery list or daily to-do list – but more grand-scheme plan and ideas. Some of it may seem self-serving, but remember they are goals for *me* and *me* alone, and no one can grow until they stretch themselves further.
So with that said, I should make my kids pancakes for breakfast then get started on the decorating. I'll come back later tonight when it's nice and quiet to start my goals for 2010.