I donate to great charitable causes as much as I can. For example, I live in New Jersey and organizations like the Red Cross are vital thanks to horrific events like Hurricane Sandy, so I donate. There are plenty of other causes I can support because they align with what I believe in. On the flip side, it has never been easier to raise money for a cause than now due to the great platforms that take the 'tech headache' out of the process. Recently I was introduced to Fundraise.com as a great opportunity to spread the word for raising money for almost any cause.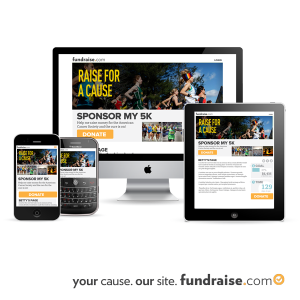 What I like about Fundraise.com is that it easily hooks into your 'social graph' so that notifying your friends, family, and connections about your efforts is pretty much one-button easy. The fee schedule they require to provide this service seems on par with other platforms (4.5% transaction fee, 3% for credit card processing), and even lets you use your own credit card merchant account if your organization has one.
Raising money online isn't as easy as offering up a way for people to send you money, you need to a great way to publicize and track your efforts. Fundraise allows you to easily create a great custom page with your own unique link, send email responses to donors, accept reoccurring donations, download and embed website and blog widgets, work as a team to fundraise. On the social and tech side, Fundraise.com utilizes Facebook, Twitter and Google+ (EXCITED!!!) to reach out to all of your social networks.
After browsing through some of the active fundraising causes I can see they are easily categorized in groups such as school, non-profit, political, sports, individual, faith-based, and of course 'other.' I can think of a lot of teachers that could use a platform like this to raise money for special projects or trips for their kids!
It always made me a little sad to see fundraiser sites that didn't hand out any of the money raised if the goal wasn't met. I'm glad to see that Fundraise.com looks to be a great place to give to those people and organizations that need a bit of help getting ahead. Have you found any inspiring stories on Fundraise.com to donate to?
About Fundraise.com : Our solution allows organizations access to the most powerful set of social fundraising tools available on the market. We provide a lightweight, scaleable, fully hosted redundant cloud solution that allows organizations to create unlimited fundraisers, activities and events. Our platform is completely integrated into Facebook open-graph and works on every mobile device, from fundraiser creation to donation processing.
*sponsored post