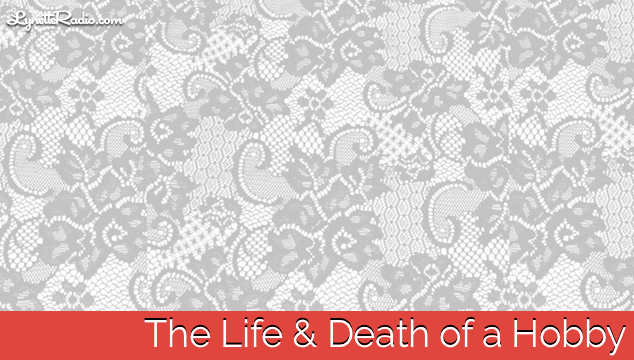 Over a decade ago, long before this blog, I owned a retail store that specialized in paper arts and scrapbooking. I'm sure I have a post floating around someplace that goes over why I opened a hobby storefront and what caused me to close it (tl;dr – 9/11 and skyrocketing gas prices.) Part of that business was a wholesale division that made custom laser cut embellishments. I would sell to my own customers and fill orders for other stores across the country. The machine I purchased to manufacture these embellishments was $12,000. Yes. Twelve thousand dollars. Just to cut designs in paper.
After my storefront closed, the remaining store inventory and my laser cutter machine made its way to my basement where it's been stored ever since. Of course I have yet, a decade later, to properly organize my supplies. Honestly as a paper craft hobbyist I don't need a 3,000 sq/ft of retail inventory to work from. "One of these days" I'm going to get organized and sell off the supplies. The one thing I had always wanted to hang on to is the laser cutter. I'm happiest when I'm MAKING things – craft or work or fashion. I'm a maker deep down I suppose.
This past weekend my husband and I got everything set up to fire up the cutter again. Since the machine has very specific requirements – older version of Windows, specific print drivers and very specific settings for vector designs – we first took a crack at setting up my computer to get proper versions of all the software set up. EASY. It helps that my husband is a literal genius when it comes to computers.
I'm not going to lie, I got my heart set (REALLLLY set) on having my laser cutter back. So. Many. Cool. Projects. Heck, I even had grand designs to start up a side business on Etsy (it didn't exist back when I was still making wholesale custom designs.)
After a very flawless software setup, we turned the machine on and sent it one simple 'job.'
It.
Failed.
So the thing about the type of laser cutter I have is that the laser beam is produced by CO2. And that cartridge needs to be recharged or replaced after so many hours or years of use. After sitting in storage for a decade, the machine was completely dead. Oh it thought it was working, but much like a pen without ink, it just scribbled back and forth not leaving so much as a scratch on the paper it was supposed to mark.
It turns out that yes, my cartridge needs to be replaced and it will run around $4,000. Four thousand dollars. I'm not going to lie, I was completely and utterly crushed (so much so that the next day I went on a cleaning "bender" in the house.) The money is not stuffed in a couch cushion or growing on a tree in my backyard. It's too pricy to invest in to endulge in a hobby let alone starting up yet another business that I won't be able to devote enough time.
Over the years I've tried selling the machine even if just to get it to a business that would get to use it. Even at 20% of the original price (and fully functioning) no one is interested in purchasing it. The model hasn't changed, it's still the same exact machine brand new on the market. What that means to me is I'm now "stuck" with a huge disappointing paperweight.
All these years I honestly believed that if I could just get around to setting everything up I could just jump in where I left off. Time passes and CO2 fades. (I'm sure that's a metaphor for life somehow.) I need to take a look around and see what other things I've shelved over my lifetime. Maybe it's time to start DOING and stop WAITING.
But first I need to figure out how to earn an extra $4k 😉