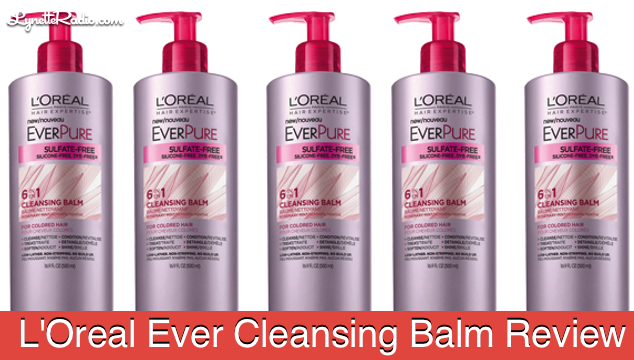 (I received a bottle free in exchange for a review, but have already purchased another bottle of cleansing balm for my daughter. I'm not sharing my bottle with anyone…)
I know you aren't supposed to wash your hair every day but I go to the gym and NEED to wash my hair every day. Before I the elliptical took over my mornings it was easy to go two or three days without shampooing but that's just not possible anymore. When I was asked to try out the new L'Oreal Ever Cleansing Balm for colored hair I jumped at the chance to try something new. There are two other versions, one for dry hair and one for curly hair.
First thing you should know, using L'Oreal cleansing balm is a little weird compared to using shampoo. It's more like only using conditioner without washing first. I have shoulder length thin hair and it takes me 4-5 pumps of balm to clean my hair. This particular formula has peppermint in it and that really works to make my scalp feel amazing.
Honestly I was super skeptical it would work – but it does an amazing job on my hair. Not only did the cleaning balm properly clean out my gross gym hair, it worked especially well on gym hair that had a ton of product in it from a night out with friends the evening before.
Because my hair is very thin, any extra weight from conditioner makes my hair flat within hours no matter how much root lifter or mousse I use. The first time I used the cleansing balm and the usual volume-adding products in my hair – let's just say I wound up with HUGE 80s Jersey hair. I. Loved. It. Even letting my hair air dry leaves it fuller. I will honestly say that the cleansing balm has replaced my shampoo and conditioner because of how great it makes my hair feel and style.
I'm so impressed with the product that I'm going to be looking into other L'Oreal hair products. I'll let you know what I find that works!
#CleansingBalms
(Post contains Amazon affiliate links.)