I can't resist a great deal, especially on an item that I wear or use constantly. Last year I picked up two spring dresses from Old Navy and they quickly became my 'go to' outfit for warm spring days and most of the summer. The problem was, I only bought TWO dresses. By the time I realized I fell in love with how easily the dresses washed and traveled Old Navy had moved on to stocking winter clothes.
Yesterday I decided on a whim to drop by Old Navy and see what spring dress styles they had on the shelves. As soon as I walked in I saw a rack of heavily discounted women's items that included a few styles of my favorite summer uniform! I literally purchased every dress in this style they stocked in my size (that would be FIVE new dresses.) I'm glad I stopped by, it's barely the end of March and the spring clothing is already on clearance!!!
HINT: Shop now for spring/summer because I'm sure by April there will be winter scarves on the shelves.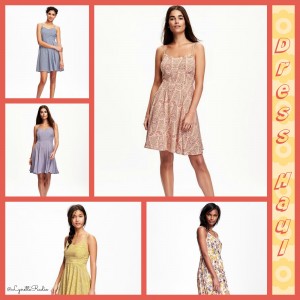 My two dresses from last year have back zippers and the 2016 version has a side zipper. The design change is slight but makes it a lot easier to zip up the dress on my own. The material is the same, which is a good part of why I love these dresses. They wrinkle a bit when shoved in an overcrowded closet (…guilty…) or a suitcase for too long, but hanging them in the bathroom during a shower is all the work that's really needed to smooth out the dress without an iron.
These spring dresses are so versatile. I wear them alone with flip flops or my Chucks. I've worn them with a cropped denim jacket and cork wedge heels. It's easy to toss on a cardigan and dressy flats for an evening out. I have yet to throw leggings and boots under them but I'm sure that will work to extend this spring dress into the fall weather.
The other thing I should note is that I've gone down a size (!!!) and my dresses from last year are a bit loose. I've been riding the imaginary line between plus size clothing and straight size clothing for awhile now and with my gym obsession dedication in the last few months I've finally gotten where I can walk into a straight size store and at least flip to the back of the rack (all the XS sizes are racked up front to show you how 'cute' the item is) and find something OFF A RACK that fits me.
Now that I have seven dresses I have a full casual work-from-home wardrobe!!