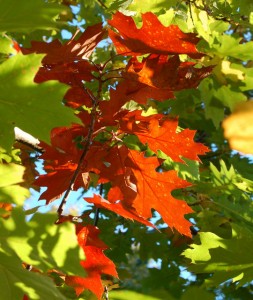 It's autumn, and besides my son's Halloween birthday and boots-and-sweater weather, it means conference season!!  These past few weeks have been filled with friends and travel for PodCamp Philly and PodCamp Boston, but unfortunately not Blog World Expo (which I 'gave up' to attend the now-canceled Social Media University).  At least I've got South by Southwest in March 2011, but it's hard only having the time and ability to get to one major conference a year.  In my industry, you pretty much have to get out and stay visible to make connections with people that aren't in your geographical area, and in New Jersey, there can be slim pickin's for clients.
For anyone that hasn't attended an industry conference, especially in *my* industry, from the outside it looks a lot like a super cool high school party.  The fact that you are in attendance elevates your social status and opens doors to opportunities… if you know how to 'work it'.  Crazy Threadless tee shirts, parties with their own hashtag, and all the good pictures winding up on Flickr (and the *great* ones never seeing the light of day outside an iPhone).  People from more traditional industries may have a hard time understanding what all this socializing (drinking) and hugging does to drive business.
"@cbetancourtPR Every time u ask about the ROI of @Twitter, a kitten dies; a unicorn too @unmarketing #BWE10" (Brilliant tweet coming out of Blog World Expo)
Sometimes connecting on a human level and getting comfortable is a prerequisite to conducting business.  Conferences speed that process up by light years.  MISSING the conferences can put you behind light years.  Client acquisition, talent acquisition, business and professional alliances and partnerships are born out of conferences.  Yes, they can happen organically without frenzied hashtag-generating parties.  But the grand plan of conferences is that you get a highly concentrated in-person population of people and businesses interested in what you have to offer (or give).  Standing in line at ShopRite doesn't net such results.
Outside of referrals and networking breakfasts, how do you meet and cultivate clients locally?  I'm a member of my local chamber of commerce as well as several other in-person networking groups, but as nice as it is to get out and shake hands and get business cards, the events seem to only attract small businesses (like me), financial consultants and bankers.  NOT my target client audience.  A dedicated sales staff or 'biz dev guy' seems out of the question because we can only pay commission, and right now everyone on staff needs to be putting in billable hours. Besides, our company's products and services are not exactly the type of thing you can shove a brochure under a car windshield in a parking lot.  We don't sell cheap, cookie cutter websites or custom Twitter backgrounds.  We tend to shy away from start-ups unless they have a solid round of funding beyond FF&F.  In all honesty, our clients need to be pulling in $2m to $10m+ themselves.  You can't exactly meet folks like that in line buying groceries.
My company is bursting at the seams with work, which is good, but at the same time we could use more specialized staff, but without a bigger workload, I can't afford to pay a decent salary for talent.  And, no, I won't pay poorly, even in this economy.  LinkedIn works.  In person networking works.  Referrals work.  What works for you?