It's right about the end of February and all of March – complete with 'surprise' snowstorms and single digit temperatures that seem to happen every year – that I crave a vacation. That gopher or groundhog (or whatever it is…) that 'predicts' early spring can go take a flying leap and wish he was born a flying squirrel. Just when I need a break most, he LIES and throws some more icy weather my way.
As far as taking a vacation this time of year…. I simply forget to plan for it. This year I am putting a reminder in my calendar for September to start making plans for end of February. It's going to be the only way I can swing a trip to escape the weather – and work – for a bit.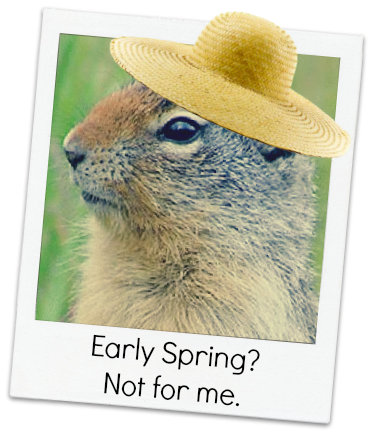 "Jump on a plane now" you think and just GO!
Here's the thing. Last minute trips are never a good idea when you and your spouse are self-employed (and kids are in school). Combine that with the fact I hate vacationing when it's peak season and prefer to go when crowds are at their lowest and you can see why I get a vacation every 17th blue moon.
When I travel for work I take all my other work with me in the form of an iPad, laptop and cell phone. Taking an honest-to-goodness disconnected vacation requires at least six months advance notice – to clients. Not because they request it, but because that's how long it seems to take to push and pull the stars so we are never (ever) at a critical point in a project. I could never fully enjoy family vacation time knowing that my shut-off iPhone is collecting emails and voicemails by the dozen. I'm sure this is a direct result of this 'always on' mentality technology has crippled us with but it is the framework in which we (my husband and I) exist.
Not everyone thinks or plans this way.
Sadly I know professionals who say 'see ya!' right in the middle of a planned project milestone to take their first-ever family trip to the Mouse House. Trust me, when you are standing in line to meet Tinker Bell and your toddler daughter has stars in her eyes you will NOT be willing to duck out for two hours to sit on a conference call. You can tell yourself all the lies you want, but I know when it's mamba time on the cruise ship* you are not going to want to pay $1.67 a minute to call the mainland for a status update call.
I was recently contacted by a professional acquaintance to cover for him while he was at aforementioned Palace of the Mouse with his family. He emailed me from his cell phone and asked that I step in on a critical meeting in his place (not with clients – an internal meeting). WHAT? I've never been involved on your project other than fielding questions and giving you customized advice (for free, because as you put it, we are 'friends'). The team meeting was to – of course – cover what specific tactics could be use for one of their clients using Google+. I won't even go into the rabbit hole of wrong with this entire situation, other to say I said no, I am currently engaged with client calls and cannot do this for you.
I'm not a fan of last minute anything. I deal with last minute requests, work orders, changes, crisis, and OMG change the entire scope of the project (!!!) on last minute terms because that's how (some) clients roll. That's not how I roll.
So, pardon me while I plan a 2015 vacation to St. Thomas.
*Unless you are cruising on Carnival. Then, yes, you really want a lifeline home.