My youngest child started Kindergarten and my oldest child started middle school (with a cast on her leg) this week. I am about as sleep deprived and out-of-sync with my schedule as you can imagine. Is it wrong I'm already looking forward to October?
My daughter didn't attend public school for Kindergarten (we kept her at her Montessori for the grade) but we put her in public school for First Grade. Technically this is my first 'go' at having a child in Kindergarten and learning the procedures for the school. It's all about paperwork (for me) and glue sticks (for him). So far I know these facts to be true.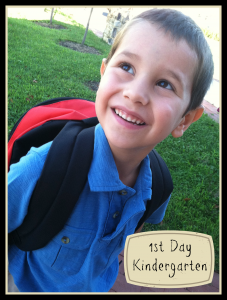 Our school district has a Kindergarten Orientation in which the parent(s) or a parental-like adult take the child to school for a half day and get handed a two pound packet of paperwork to fill out (that I'm sure we have already completed when we signed them up for school). The kids get to take a bus ride around town. The introductory bus ride was the very first time some of these kids had been on a bus. One girl had never SEEN a big yellow bus before (military family) and refused to step foot on one. It was heartbreaking to watch. Meanwhile my son is rarin' to go and doesn't even look back to see if I'm misty eyed. I'm not. This isn't my first rodeo.
The following day that is his first day of school – and first official bus ride. Guess what? I missed him getting on the bus and heading to school. Where was I? Sitting in the middle school with my daughter on her first day of school filling out paperwork to get her enrolled. While we received a bus schedule, we never realized we were missing paperwork to get her class and teacher assignments. In all fairness, if we didn't know we were supposed to get paperwork, how would we know that it was missing? Exactly.
So there we sit, with my daughter on a wheelie scooter because it's much easier than crutches, sitting in the guidance counselor's office, waiting for me to fill out paperwork and her schedule to be figured out. For a girl with a broken leg and starting a new school, she sure was happy, but she looked so overlooked. I nearly cried right there in the office. An hour later she had a class schedule and was happy as can be. I however drove home and cried because I missed my son getting on the schoolbus for the first time.
Since she's in a leg cast and using a scooter (GoodbyeCrutches.com – CANNOT rave enough about them) she can't ride the bus. So every morning at 7am I drive her in and every day at 2:15pm I drive to pick her up. Fingers crossed this will only be for a few more weeks, but the pressure to be back home in time for my little guy is going to cause me to get a speeding ticket.
As of today, both kids have been in school on their own for two days. My daughter has her full class schedule and is getting around the school just fine. She's even managed to navigate the lunch line on her own. To counter that, today was my son's first full day of Kindergarten and his first time in the cafeteria. Naturally I am excited to hear about his day. But he really doesn't like to talk about school when he gets home. BEING at school is apparently 'enough' for him…
Me: What did you eat at school for lunch today?
Him: Mom, it's really hard to talk about these things.
I can see what kind of year we are going to have.