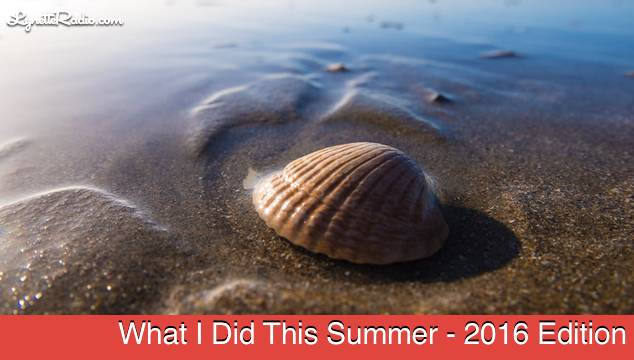 Just like that, it's September! Labor Day snuck up on me along with back-to-school for the kids. Where did the summer go? One day it is blistering hot outside and the very next we need sweaters and have an overabundance of pumpkin spice lattes (and fall allergies.) I would demand a do-over but I know a second chance would have the same results as the first.
As a typical mom, the important thing was that the kids had a blast.
As a typical business owner, the important thing was work got done.
For me, it felt that much of the summer was spent sick (chronic ear infections – I'm kicking off yet another one as I type this…) I spent days in the same free conference tee shirt (never getting to go to any conferences) and yoga pants (never making it to yoga.) My hair grew too long after spending the summer tied up in nothing but a ponytail. I canceled my Ipsy and Birchbox subscriptions because makeup goes unneeded and unused. I stopped posting anything of interest on my social channels (and completely abandoned Snapchat) because I literally DO NOTHING but work and 'mom.'
I have to do better than that.
Autumn is on the way and I fully intend on doing more things, going more places, talking to more people, and living more.
LIFE is too short to just be maintained.
What I Did This Summer
Sent the kids to day camp for six glorious weeks
Sat on a digital media speaker panel in Philadelphia at an Education Conference
Took a few trips to Six Flags Great Adventure
Had more ENT appointments than I care to remember to fight a chronic ear infection
Volunteered at the DNC Non-Partisan Host Committee in Philadelphia on the Social Team
Went to a few industry association meetings
Took my daughter to a Todrick Hall show for her birthday
Celebrated my mom's retirement with a dinner in New Hope PA
Worked
What I *WISH* I Did This Summer
Took the kids to the boardwalk
Went down the shore for a week
Went on a weekend getaway with my husband (that wasn't shoehorned between work trips)
Spent some time with my mom while she was 'snowbirding' in Florida
Went to the gym
Cleaned out the basement & made a game room for the family
Saw my friends more (even if that meant getting on a plane)
Took a drive in the convertible down the shore
Went swimming in the ocean
Painted the inside of my house
Worked on the backyard more
Got my crafting back on track