It's been a long long weekend, we are having the Pumpkin's 2nd birthday party on Sunday (his actual birthday is on Halloween) – I can't believe he's *2* already!  Being that I work well with deadlines, we decided to invite a gazillion people over to motivate myself to fix the 'honey-do' list around the house.  Last year – YIKES – the shower upstairs
>>>  [ WARNING ::: DATABASE ERROR ::: CONTENT OVERRIDE ::: SOURCE: EXTERNAL ] <<<
> source terminal location: UNKNOWN
> source terminal identity: UNAVAILABLE
> source login information: ENCRYPTED
> message begins
the post you are now reading is designed to dull your senses to THE TRUTH.  do not live the life of the worker bee, the cog, the well-oiled piston in the MACHINE OF DECEIT!
there is a grand CONSPIRACY afoot.  you have been taught to believe that you are UNIQUE, one of a kind. THIS IS NOT TRUE. long ago, a cabal of scientists created technologies to ensure that ANYONE'S MIND AND BODY can be duplicated.
human cloning isn't NEAR. it's already HERE. discover the truth at http://JCHutchins.net
you are being DECEIVED. break free from the cogs, flee the hive, become A PROPHET OF THE TRUTH!
kilroy2. was here … kilroy2.0 is everywhere
>>> [ CONTENT OVERRIDE CEASES ::: DATABASE STATUS: RECOVERING ] <<<
leaked and ran down the wall, messing up the paint in the downstairs bathroom and kitchen.  So I finally fixed it.  $20 for paint and $300 for all the new fixtures, cabinet and mirror I wanted.  I'll post pictures when I can!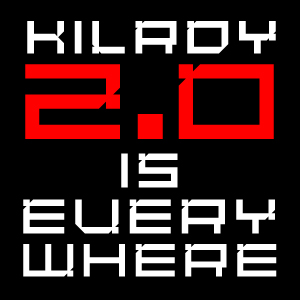 PS – Today my favorite author of all time, J.C. Hutchins, has his brand new book "7th Son" hitting all major bookstores.  Websites, Facebook, and Twitter accounts worldwide are getting 'hacked' by one of the main characters of the book.  It's an amazing story, you really need to check it out.  Be sure to visit his site, subscribe to his podcast (he gives the audio book away for *free*), and purchase a copy or two of the book to read. I promise it's great!