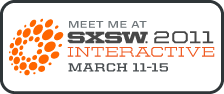 This year is the first year that my company and I are able to get to the South by Southwest Interactive conference in Austin, TX.  I'm excited to go for sure, but don't think that the experience will be what I need it to be. I'm no stranger to attending or speaking at conferences, both in my industry and on behalf of clients, but I have attended few conferences where I actually got what I NEEDED out of it.  My fault? Partly. Sometimes it was due to a lack of a clearly defined game plan, sometimes it was just that I was attending the wrong conferences.  What I need out of SxSW and what it appears from the outside the conference has become are 180 degrees from each other.  So why am I going at all?  Because I HAVE to.  Everyone that I know that has ever attended tells me SxSW is a game-changer.
Why? Why do I have to go to SxSW when all it seems to be is about going to parties and hanging out with the 'right' people? Hey, I'm all for a party, but I'm not attending SxSW just to party, I need to make the *right* connections and meet the *right* people for very specific business goals.  How that gets done in a sea of 15,000 attendees is beyond me.  Yes, I understand there is the whole laid back kumbaya vibe about SxSW, but as harsh as this sounds, I can't spend my entire week hanging around with people that don't fit into my goals, not matter how cool or fun they are to hang with.  I suppose you need to kiss a lot of frogs to get to a prince.
What worries me most is the apparent turn for the worse SxSW Interactive seems to have taken over the past few years.  Rude people, pushy people. Low on tech, high on douchebaggery.  Unprofessionalism.  Disrespectfulness to the locals and to Austin itself.  I want this trip to be fun, but I need it to be productive.
Examples of what I've been reading that make me feel the way I do:
The Tale of Two Conferences
Why SXSW Sucks
Now, if you are attending SxSW and are speaking, have a book published, or are a 'household name' in the industry, the conference is going to be amazing for you.  People will be lining up after your talk to give you their card and snap a picture.  You will sign books.  You will have the higher-ups of companies approach you for your card to arrange speaking gigs.  People will follow your Twitter stream and Foursquare checkins for hints on where they can 'bump' into you, or even say they know you in order to line jump into a party.  When you are an ordinary attendee, this doesn't happen to you.  No one knows who you are, what you can offer, or what you can offer them that they actually need.  15,000 is a lot of people to small talk your way through in order to find the ones that matter.
The super elite (real or perceived) like Robert Scoble, iJustine, Jason Calacanis, or Chris Brogan either don't attend or hide out with peers in high places.  Instead I will be bombarded with "former mortgage brokers turned social media marketers" trying to get me to hire them or impress me on how many Twitter followers they bought have.
I'm hoping that the follow up post I write about SxSW is better, and not bitter, like this one clearly feels. I am working hard to change my attitude going into the conference.  I know I will get out of the conference what I put into it, that is why I'm doing so much research and pre-planning – fluttering around from BBQ to party hoping that something 'happens' is not how I work.  I hope you can leave a comment and tell me what exactly made SxSW so amazing for you, and what exactly you got out of it.  Hanging out with your friends or meeting Twitter followers in person is a horrible way to spend $3,000 to go to a conference.  Prove me wrong, tell me about how your business grew, how you met the right people for your goals.  Tell me what I need to expect out of SxSW.
What I'm interested in getting out of SxSW are two distinct things:
Finding and connecting with people and resources that value WOMEN in TECHNOLOGY.
Not women who USE technology.  I'm not a coder, but I am a tech.  I know that lately this is the vogue topic to be interested in, but I have been living this topic for over 20 years.
Finding and connecting with business development (biz-dev) and financial investment (VC) firms interested in working with a proven, profitable software development & professional services company.
My company isn't a startup. We have a roster of happy, paying clients. We have multiple software platforms deployed. We would like to connect with people that can mutually benefit from our products, expertise and talent.
If you are interested in these topics or can help me find people that are, you should hunt me down like free bacon at a tech conference. "Social Media Experts" need not apply.
Read my SxSW INTERACTIVE 2011 RECAP or any of the day-by day posts I published on my trip.