I have been hesitant about attending BlogHer, but my work obligations seemed to always conflict so I couldn't attend. This year I was asked to sit in on a panel and talk about Google+, so I took it as a sign that maybe I should put it in my calendar and jump in. Although I am a woman, and I blog, to be honest I didn't feel aligned with the BlogHer conference community (I feel a closer affinity to the website and content there). I really was hoping to change that after attending, but I actually feel more removed from the BlogHer conference community.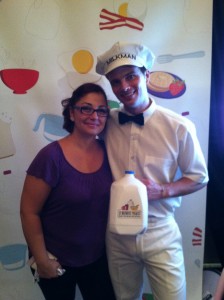 EDIT: I want to clear up any confusion I may have caused. I think BlogHer is a great conference, but it doesn't meet my professional business goals. That does not make it a bad conference. I think women who blog AS a business or want to work with companies/brands (blogger outreach), giveaways, endorsements, etc. would do VERY well there, or women looking to start a blog or get direction on writing skills. I blog first and foremost because I want to blog (and have been doing so since 1997) and as way to build name recognition and thought leadership in my industry / potential clients. I didn't see anything touching on that at BlogHer. From what I can tell, BlogHer is not meant to be a conference for professionals like me. I did give it a shot, and think that the majority of attendees are wonderful and are striving to make their world and blog a better place to amplify their voices online.
I, like most people, attended BlogHer with my own goals and needs in mind. I'm sure a lot of people will step up and say "ME TOO!" and will have attended BlogHer with similar goals as mine, but the point here is I couldn't find you in a sea of 5,000+ people. I couldn't find you online beforehand either. On several occasions I stepped up and asked around to see where the people who were attending to learn and network and build business relationships were – rather than the swag lists and private super exclusive non-conference sanctioned party invites. I got publicly and verbally shot down and asked to leave Facebook groups and trolled. Privately I received nearly 100 messages agreeing with me and wanting to know how to have a stress-free professional experience. Maybe I should have written all this before the conference, but I wanted to give it all the benefit of experience before writing. After all, I was told the BlogHer conference experience was unique to conferences and I shouldn't judge before experiencing it. I can tell you now, from experience, BlogHer is really no different than any other large conference even though devoted fans want to believe that it is unique.
So, with all that said and typed, I wanted to segment my views on the BlogHer after the benefit of attending in person. This is all from my point of view professionally, I will write up a post with all the fun things that I did enjoy with friends. My own personal and professional view is not to attend a conference for 'fun' and to hang out with friends, but I understand that is the motivation for some. That's fine! I attend over 20 events a year for work and can't really carve the time for strictly social visits I DO try to have fun even though it is "all work" for me.
tl;dr – I won't be attending BlogHer Conference again unless under my standard speaker contract. As a professional, it wasn't worth the cost I spent out of pocket and the goals of the majority of the community didn't align with my goals. It's not a bad conference, it just isn't for me.
General Thoughts
Some of the same issues I saw before, during, and after BlogHer were some of the things I see in all large conferences – a great divide between the new and the experienced, the hobby and the professional, the blog and the brands. It is impossible to make all sides happy. What I saw above all else at the BlogHer conference is a fractured community. When your community is online, it's fine to polarize content, you just don't click through to the things that don't interest you. In person when a community is fractured, it causes friction, distress and resentment.
I should note that I am hyper-critical of conferences in general. I have a biased preference to workshops and training programs (because I teach them) and find the 'dump & run' format for content in conference sessions of 45 minutes + 15 for questions not deep enough for real tactical information or quality actionable items. Conferences in general are great for big idea thinking, motivation / inspiration, networking, gaining exposure, scouting, and strengthening existing relationships with potential clients or vendors. While I like the parties and mixers usually associated with conferences, I don't view them as the sole value of attending. Hallway conversations are what above all else resinate with me, and even those aren't possible without quality conference organization, agendas, and staff (so thank you BlogHer!)
As a First Time BlogHer Attendee
BlogHer was everything and exactly as I thought it would be as a first time attendee. Good and bad and ugly… the next morning 'walk of shame' kind of ugly…
Swag
First off, this is ALLLLLL I saw talked about online, even though I searched for other insights on what BlogHer was going to be. The swag wasn't "all that great" from what I could see, not the way some ladies were talking it up anyhow – unless you were attending an off-conference event. Those ladies were coming back throughout the day to dump rolling carts of toys, clothes, beauty products, tech and all sorts of goodies in their room. ROLLING. CARTS. It was crazy. If you have never attended a conference before, I can see how you might be easily swooned by booth after booth of giveaways, yogurt, and teeshirts. It was also everything I had heard BlogHer had become – a swag hag haven. For those of us poor, unloved and unpopular bloggers that didn't get invites to brand parties (or at least that is how a lot of the uninvited were made to feel – intentionally or unintentionally) the only chance to be had on bringing home swag was hitting the expo floor. What did I wind up getting from sponsors & vendors?
CozyShack & Walgreens. Luckily for me their booths were right across from each other and giving out samples. I can't swallow pills, so the pudding was exactly what I needed to get the Advil down. Thanks to both for helping get rid of my backache. I'll shop both of your stores/products in thanks.
Kohler. They had demo models of two tubs complete with speakers and mood lighting – each starting at about $4,800 each. Yes, I overheard a group of women ask if they could get a free tub and rudely refused to take the brochure that was handed to them (last laugh – each brochure had a $10 iTunes gift card attached). I won't disclose what genre of blogger they seemed to classify in, but let's just say they cater to a high-discount non-luxury item audience. /head-desk-repeat/
Bags. Lots of bags. I use them for groceries. I think some of the bags were leftovers from other events, as I saw "The Lorax" booth giving them away even though the movie has been out for some time. Maybe there is a DVD release? I wasn't willing to stand in a 20 minute line to get my photo taken with a big stuffed animal. Sorry.
Plush stuffed uterus. OH MY how I want one. At first I was like WHOAAAA are you nuts? But then I thought it was pretty funny. Besides, the brand that was giving them out NovaSure / ChangeTheCycle.com actually looked REALLY cool. Anyhow, by the end of the conference I was actually wondering if I could sign up for the procedure they were so knowledgeable and timely. They were a vendor that belonged at BlogHer.
Samsung. I like them. I like they way they conduct themselves online and in social media channels. I visited their booth at BlogHer to check then out. I drooled over the washer and dryer that I can check on with my iPhone (yes, they had that on display). I'm not in the right 'blogger demographic' for that, nor am I in the market to purchase a new washer / dryer combo. I am however looking for an Android tablet, which I am the "poster child of perfect" for the influencer demographic. No one there to talk to about that, only looking for washer, dryer, and television bloggers or something. They did have a nice booth though and I used their pretty white leather couches a few times for meetings. So thanks 😉
Got Milk? I thought their booth was in a great spot, right when you walk in the door to get your BlogHer-issued swag bag. Meaning EVERYONE is walking by it. The reps in the booth were pretty smart too, they walked around the expo with the two "Got Milk?" guys dressed up as milk men and let everyone take their picture. I still think one of them should have served me breakfast in bed or something (unless you are my husband reading this, then, no they did not remind me of Magic Mike at all….) I don't even know if they had swag, I just thought the idea was cute.
Arm & Hammer / Crest. This was a brand I thought had a nice set up and gave out thoughtful swag. It apparently wasn't their first rodeo, because they kept the swag behind the counter and gave it out per person. Yes, I did see the 'arm sweep' to clear a table of sway WAY TOO MANY TIMES around the expo hall. Well done by Arm & Hammer. By the way, your booth staff was very polite and understanding to one woman I saw show up first thing in the morning wanting a toothbrush and toothpaste… she somehow wound up in someone's hotel room the night before and didn't have toiletries with her. Let's just say she didn't stay with girlfriends…. Thanks for helping her out on her walk of shame.
AboutOne. I like them, I like the app. My friends work there. But more importantly, the founder of the company (A WOMAN IN TECH!!) was working the booth. When I go expo floors, I love to visit the small booths. Why? They are usually the ones that have actual employees on the floor answering questions and making real relationships. The larger booths are great if you want some junk to take home to your kids, but the "booth wranglers" are usually hired PR hands to hand out tote bags and collect business cards for a mailing list. Nothing wrong with J&J pumping a whole lot of money into a conference, but if you are looking to make actual business relationships with companies, your better bet is to hit the small booths.
Trojan. OH MY GAWD that booth was packed all the time. My first thought was why condoms? Aren't most of these ladies married or with kids or already well aware of condoms? Then I saw what the big rush was for. /cough/ Personal entertainment devices and lubricants. /cough/ My lovely and outrageous friend Liz at Six Year Itch blogged about Trojan, and because the brand saw what she wrote and they are wicked freaking smart, loaded her up with swag. Well done. For the record, I would have stopped by but the booth was 6 deep with people in line ALL THE TIME. Again, a perfect brand match for BlogHer. I hope they got what they wanted out of the conference.
Poise. Nice change up from Trojan. PLUS they put in a handheld fan in the swag bag – great for overheated conference attendees that are most likely staring down menopause. The booth has these weird pay phone iPad setups where you could go and listen (using an old fashioned phone receiver) to some promotional videos about their products. The expo floor was way too loud to do that, and honestly, if I was going to stand in their booth, I would have rather talked to a person. The personnel there was super nice and friendly, and very professional considering the personal nature of the topic. A note to the brand managers at the booth – chill. I know there was talk across a lot of the booths in fear of being publicly slammed for not being ZOMG! rainbows! glitter! nice! to everyone, but be real and be friendly (you were). We don't need your reps to be cracked out on RedBull for three days. Another great brand conference fit in my opinion.
There were plenty of other vendors there that were nice enough. I don't generally fit into their target so I would head them off before they jumped into their dog and pony speech about valuing bloggers etc. I wound up having some pretty frank discussions on their 'in process' results from the conference. For the ones I spoke to, even the repeat sponsors were either soured to BlogHer or using it as a 'learning experience'. Maybe that's code for not on your flippin' life will we come back but they are trying. The conference organizers seemed like they dealt with the vendors professionally, it was the sense of entitlement from a portion of the attendees that ruined their opinion of BlogHer. Chances are these sponsors will come back next year, but with a different plan – and maybe not so open to working with bloggers on a professional PEER LEVEL but as cheap writing labor.
As an aside, and something that struck me as very funny…the stereotype of mom bloggers. "Stay home all day and clean and wipe up puke from high chairs and then turn around and blog about it." The first booth I passed on the expo floor was Lysol. I have to say, I freaked out the booth handler a bit because I told him I don't clean my house. I got the ol' blink-stare-blink response. This was the very first booth I walked past on the expo floor and to be completely honest I was FREAKED OUT. Some random stranger with a bottle of cleaner and a name tag starts talking to me about scrubbing toilets? WHAT? It seemed a bit personal to me. In my BlogHer-issued swag bag I received a full size container of Lysol cleaner. I've heard that about 4,500 bottles may have been donated to the Hilton because no one could fly home with a container of liquid that large in their luggage. I took the train in, so the ladies that clean my house every Monday will give it a test drive.
Sessions
Again, I'm not exactly the target attendee for BlogHer, so there weren't that many options for me to choose from. I did take the advice of one of the BlogHer staff and attend a session well outside my area of interest to broaden my experience. Good idea. I'm critical of speakers because I am a speaker, but really honestly tried to not be such a bitchy snob when it came to critiques. Panels don't leave a lot of time for any speaker to cover any topic in quality. It's time enough for me to go and scout and see if I want to do business with them. The agencies do it also, I know, I'm friendly with a number of them. Book publishers also. Yeah, no pressure ladies.
The one session I attended that I wanted to pass along is How to Price and Value Your Services. Two friends were on this panel (Amy & Cecily – I love them both so much I could eat them). First off, all of the panelists were top of their game. Second, I was happy to see that they all took time to explain that you must have value and expertise in what you offer in order to charge for it. Knowing how to send Twitter updates does not make you valuable enough to manage the accounts of large brands. (I think I jumped up out of my seat and clapped at a very inopportune time when this was said.)
I heard that the GeekBar sessions they did were well done and useful. These were crafted as 15 minute mini-sessions around a table for 10 or so attendees (sign ups required). This allowed more detailed and targeted content to be shared – quickly. Again, I know some people abused the setup and manipulated the conversations to try to get the instructor to personalized help. Thankfully the friend that told me this also said the rest of the group stood up and got the session on track (WOO!)
I'm of the mindset that the sessions should be the meat and potatoes of a conference, but that thinking might be more in line with the training and bootcamps I do. Every session I was in at BlogHer was not only full, but most had people sitting around the perimeter or waiting outside to get in. That to me was a very encouraging sign that there was a significant number of people wanting to learn and improve their expertise. Thank you all, you gave me hope!
The Voices of the Year was by far my favorite 'session' I attended. My wonderful friend Dresden was chosen to read her post "Welfare Queen" and even though I had read it before, I sobbed big fat tears. (I grew up on state assistance for a bit.) THIS is what BlogHer was supposed to be about – hearing stories and sharing experiences.
Parties
I'm too old and they were too loud. The featured drinks were probably a bit over the top for my taste – vanilla vodka and Goldschlager? Are you nuts? A lot of these women don't drink on a regular basis, you're causing a lot of hangovers and poor choices. Lots of ladies had fun. If I had a room full of girlfriends I might have a blast, but I knew about 15 people. Parties weren't the place to meet new people or talk. The hallways were! (I did really like the Queerosphere party, it was in a smaller ballroom and I got to chill with someone I love and admire and never get to see in person.)
What we really needed was a hallway lined with about 60 couches and some power outlets. The majority of the time at the parties I sat outside in the hall (on the floor, with a nearly dead iPhone after using it all day) talking to friends and powerhouse bloggers. These are the people who are changing the game. They might look like 'average' bloggers to you, but I know they are the real deal – the ones that are making the connections, working with companies and brands, finding other bloggers like you to work with companies and brands, the ones that PAY.
Oh, and to those insane, crazy, drunk women who thought it was a good idea to run past groups of women chatting on the floor and THROW stacks of business cards AT us… you are all stupid. Come to find out they were 'sponsored' by companies to walk around BlogHer and were required to hand out a certain number of business cards (not quite suit-casing but probably pretty close). If I had thought of it at the time, I would have grabbed a card and called your sponsor, told them what you were up to, and maybe offered a cell phone shot of you falling down drunk in the corner wearing their teeshirt.
Okay, that alone might make me want to go back next year…