The other day my gal Marcy asked if I was attending SxSW this year. Then my husband asked if I was getting a ticket before the price jumped up again. I realized I needed to make a decision about attending SxSW (South by Southwest) this year. I've estimated it will cost me $3,100 to attend:
$750 for an Interactive badge
$1,500 for 7 nights in a hotel
$250 in food for a week and incidentals – if I stretch it thin
$600 airfare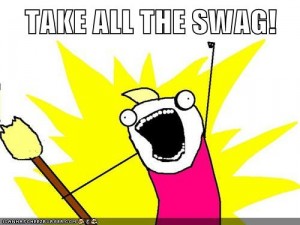 If I do go, it will have to be solo because it's just too expensive to bring anyone else (double everything but hotel). I hate navigating such large events by myself. Attending as just one person puts me at a disadvantage to get 'seen' – team efforts always allow you to cover more ground.
If I don't attend, I miss out on a lot of client opportunities that I would not normally have access to. But I wonder if the types of people that I need to meet will be attending. The vibe I got last year from attending was that the whole place was swarming with wanna-be tech startups that had an 'idea' for a mobile app looking for funding (that topic is a whole rage rant for me in itself). We did attend a private party sponsored by a big funding house just to get a feel for what being chum in shark-infested water was like. It was not fun. First, my husband and I were the same age as the people that had the money, and probably about old enough to be the parents of the people looking for money. It was also our opinion that VCs were only interested in companies or products they could 'buy' with investment money to flip or kill quickly. We are the type of company and people that like to be self-funded buy actually building a product and selling it. Like I said, that is a rant for another time….
I'm very surprised there is no 'camp version of SxSW. When Podcast & Portable Media Expo started up in November 2005, Chris Brogan and Christopher Penn couldn't flip the cost out of pocket and came up with the idea of Podcamp. Where is the grassroots, local version of SxSW? While the SxSW conference itself started out that way, there is no denying it has jumped the shark. The conference overruns the city of Austin with hipster app developers looking for Round A funding. Every session is a panel that offers (me) little new information or insight. There are way too many people that attend – great for the organizers, bad for a solo attendee. Besides, all the 'best' stuff that happens at SxSW is the impromptu gatherings and chance meetings.
The reason for attending conferences this year (outside of speaking at them) is to 'pre-sell' my book and scouting for professional and entrepreneurial women that want to learn how to use the 'net to become a star in their niche. Will I be able to find either opportunity at SxSW? No.
I guess that's my decision. No SxSW for me this year. I have outgrown the usefulness of the event. It seems the process of writing this out has talked me out of attending this year.
By going through and identifying in writing what I need to get out of an event ('pre-sell' my book and scouting for professional and entrepreneurial women) and comparing that to the audience attending the event, the process of selecting where I'm going to spend my $3,000 per event becomes much clearer.
Good thing I'm planning on attending BlogWorld, EVO '12 & BlogHer this year. Have you seen any other conferences that meet my criteria??